About the Event
The UK's much loved and well established tuning show returns to Cadwell Park for the first of two Modified Live events this season.
Once again, the event shares the occasion with the always spectacular and highly competitive Time Attack Championship – this combination of on-track action and off-track spectacle setting Modified Live apart from other tuning shows.
Modified Live features displays from car clubs, individual exhibits, trade stands, plus a range of other activities that take place throughout the day. There's also the ever-popular Show and Shine competition, which is as much about modification and performance as it is a great paint job.
And of course, don't miss the must-see, non-stop action on the unique Cadwell Park circuit, with its changes in topography and technical bends making it one of the most demanding circuits in the UK and a firm favourite with the drivers.
The day's Time Attack competition represents the opening round of this year's Championship. You will see four runs of each class during the day: Warm-up, Practice, Qualifying and the Final. The entry is then split into sessions for the various classes: Session one is for the Clubman Classes for cars that are close to standard specification, Pocket Rocket for smaller cars and hot hatches and the Club Classes for tuned 2WD and 4WD cars. Session two features the awesome Pro Classes, where the highly modified and infinitely more powerful and spectacular machines demonstrate the ultimate in automotive tuning – all of them battling to set a faster lap than their category rivals.
Be in no doubt that there's some serious machinery in operation today running in the Pro classes. In fact, there just aren't enough adjectives to describe them – especially those that are turning out over 1000hp! Whilst in the Club classes, you'll see road specification cars that are tuned and driven like you've never seen them before.
Introduced in 2019, 'Run What You Brung' Time Attack makes a return. This innovative addition is where owners can literally run what they own and find out what it's like to drive against the clock in controlled and competitive conditions, without the stresses, strains – and costs – of regular motorsport.
Joining us at Cadwell for the first time ever, is the Milltek Sport Civic Cup and with over 40 cars registered for the championship, fast and furioius action-packed racing is guaranteed.
Adding to the all-day circuit action are demonstrations that take place in between the competitive sessions. This includes a series of spectacular Drifting demonstrations.
To watch our streaming broadcasts, live timing and to find out more, visit our Facebook page @uktimeattack, follow us on Twitter @timeattackuk, or visit our website: www.timeattack.co.uk

About Cadwell Park
Fondly nicknamed the 'mini Nürburgring', Cadwell Park is held closely in the heart of many motorsport fans and is a superb location for a welcoming car show. Located five miles south of Louth, the Lincolnshire circuit is especially popular with cars and bikers nationwide, noted for hosting the largest Super Bike event in the UK. Modified Live takes advantage of the superb track and welcoming atmosphere at Cadwell to provide a national level event with a local friendly feel.
Timetable
To be announced.
Venue Facilities
Cadwell Park is a great circuit for competitors and visitors, one of the true unspoilt motorsport venues in the UK. On site are modestly priced food and drink vendors, a paddock cafe, toilets, ample incredible viewing areas, great free parking. It's also kids friendly and, in normal times, boasts a childrens playground with lots of trees and open space. There are also showers and garage pit for teams to fix cars if needed.
Unlike larger circuits Cadwell has not be ruined by erecting huge pit garages and facilities, all teams have to work outside in allocated spaces which means that when circumstances permit, visitors can get up and close with competitors and see the cars and mechanics in action while having a wander around.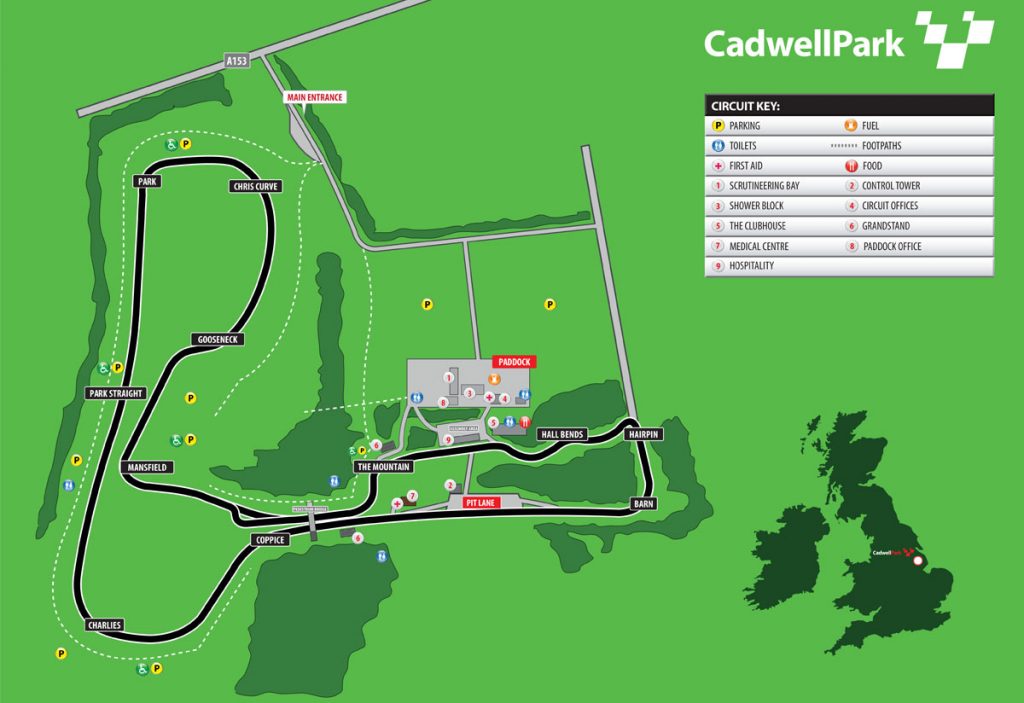 Directions / How to find Cadwell Park
If you are approaching from the south, the A153 can be accessed from the A1. Coming from the north or west, use the A1, M1 or M62, then take the M180 to Brigg, then the A1084 to Caistor.
The nearest stations to the circuit are Market Rasen and Lincoln.
Cadwell Park Circuit
Louth
Lincolnshire LN11 9SE
Tel: 01507 343248
Fax: 01507 343519
FAQs
What are the show opening hours?
Public opening hours are 0900-1830hrs. Car Clubs and Traders can arrive from 0700hrs
What time does the action start?
On and off track content starts from 0900hrs and finishes at 1830hrs – please check our event timetable when it is published to see what is on and when [ published around 1 week before the event ].
Can I park my car in the club displays in the show area?
Yes but you need to book yourself and your club in with us using our car club page [automated booking system].
Are there places to eat and drink on site?
Yes there are food and drink vendors as well as a circuit cafe. The food is a high quality affair with modest pricing, there will also be ice creams etc. Within the cafe there is also a licenced bar overlooking the circuit.
Sorry they are not permitted on site but if you want to come with a picnic and refreshments of your own there are plenty of very nice grassed areas and woods around the venue to sit down and enjoy the action with friends and family.
If I am using my car in a Public Tracktime session do I still need to buy an entry ticket?
Yes, all visitors must have an entry ticket regardless of the activities when on site.
Whats the latest time to buy an advanced ticket?
Advanced tickets are on sale until 12noon on Wednesday before the event . After that date tickets may only be purchased on the gate. The earlier you book the more money you save. See our ticket link at the top of the web page for details on savings.
Can I pay by credit/debit card?
Yes you can buy your tickets online until Wednesday before the event and we also take cards and cash on the gate during the event.
Yes all visitors have access to free parking inside the venue in designated areas. If you wish to come with your car club and have exclusive show parking, please see our car club page.
No sorry, as it's race track therefore pets are not allowed except for guide dogs.
I've bought tickets online but they haven't arrived yet, what should I do?
Advance tickets are handled by the circuit [ MSV ] directly. . If you need to chase-up things or discuss any tickets you have purchased, please contact the circuit using the details that were provided to you when you purchased the ticket. If you need contact information for the venue, see above. Please do nto contact us for ticketing enquiries, please contact the circuit.